Alumni Spotlight: Abdoulaye Ndiaye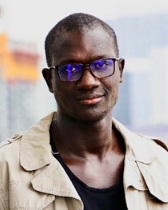 Q&A with Abdoulaye Ndiaye
Abdoulaye Ndiaye is an Assistant Professor of Economics. Prior to joining NYU Stern in July 2019, Professor Ndiaye was a Research Economist at the Federal Reserve Bank of Chicago. Professor Ndiaye's research focuses on macroeconomics and public finance. Professor Ndiaye received a PhD in Economics from Northwestern and a BS and MS in Economics and Finance from École Polytechnique in Paris. He has been a Visiting Scholar at the United Nations, Harvard, and Princeton.
Reflect on your time in the Economics department at Northwestern.  How did your time at NU impact who you are today?
Ndiaye: At Northwestern, I was lucky to have excellent training in both macroeconomics and theory. The combination of these disciplines really shaped my research today, as well as my teaching and the ways in which I mentor students. Another aspect was the collegial environment both in class, between my classmates and cohort, and during seminars. This is something that I still take with me today. It influenced my style and the ways I relate to students and colleagues in seminars and other aspects of the academic job.
What was your biggest challenge while in the PhD program at Northwestern and how did you overcome it?
Ndiaye: The biggest challenges that I faced at Northwestern were practical and purely personal; they were not necessarily related to coursework. I'm happy to share my struggles with everyone to see that challenges happen. In the beginning of my 4th year, just after my prospectus defense, I was diagnosed with Leukemia. This was a difficult moment, but I had support from my grad school friends, advisors, and faculty. Even though I was not in good physical health, I kept good mental health. Mental health is very important for grad school and is something that people struggle with, so I was lucky to have the support of my friends. Once I got into remission and graduated the next year, I felt grateful and relieved for life.
Why did you choose to pursue the field of macroeconomics and public economics?
Ndiaye: My background and training came from science, engineering, math, and physics, but I always wanted to do something that had a human element related to social sciences. Coming from Senegal, development is a very big and important issue that interested me. My personal statement for PhD admissions included a quote by Sir Arthur Lewis, the first and only Black Nobel Prize winner who did development work. I started the program thinking I would study development with a focus on the role of governments; however, once I started at Northwestern and learned more about macroeconomics, I discovered I enjoyed it a lot. Then I decided to do macro and public economics because it's the public and government questions that interest me the most. Especially questions related to the government's role in social insurance and social safety net. I have also had great advisors at both Northwestern and the Chicago Fed who motivated me to pursue this field. I'm still interested in macro development in the context of Sub-Saharan Africa and someday hope I'll be able to conduct research rigorously. The current limitations of the data make it difficult for research to be in line with the publication standards of the profession.
What was the campus climate during your time at NU? What significant event(s) were going on in the world and how did it influence you?
Ndiaye: During my time at Northwestern, I remember one moment that was very significant. In 2016, a very difficult year overall, there was the shooting of Philando Castile. The news was horrible. At the same time, I was working on my proposal for my prospectus. It was a depressing time, the worst summer of my life. I was avoiding the news in order to focus. During that same summer, there were a lot of movements in the country. I remember I was at Princeton that summer and I had my first scary encounter with the police; I was playing Pokémon Go at night around where I lived, and a security guard called the police. As an African person from Senegal, I'm not a descendent of slaves so I can't speak to the full experience of discrimination of U.S. born Black people, but once we are in the U.S., we face similar discriminatory treatments. That was a really difficult summer.

How do you spend your time outside of your appointment as an Assistant Professor at NYU Stern?
Ndiaye: I spend a lot of time doing research and reading other people's work in my field, macroeconomics and public finance, as well as adjacent fields, such as math and health, even before COVID-19. When I'm not doing research and teaching, I mentor students of color and African students who want to pursue a PhD in Economics. I take the time to respond to their emails and meet with them because I benefited from the generosity of mentors who helped me, and I find that it is a way to give back. Personally, I also love New York City and participating in the cultural and artistic life of the city. I like music and music shows. I attend house and techno shows in Brooklyn whenever I can. I also workout almost every day. That is my way of staying sane and avoiding what I call "DAPS," Depressed Assistant Professor Syndrome.
Comment on your experience as a black man in the field of Economics – what do you want your colleagues and future colleagues to understand in this regard?
Ndiaye: The realization of being a Black man in economics happened for the first time at the NBER Summer Institute in 2013. At the time, I was visiting Harvard and went to a session on the First 100 Years of the Federal Reserve where Ben Bernanke was talking. I remember being the only Black person in the room. Since I was not a professor, that meant that there were no Black professors. From there I realized I needed to develop a thick skin to really make it in this field. A few years later, there were a few more Black people, but an awfully low number, especially in macroeconomics. I think there is a problem of access in the Economics field for Black men and women.
From the demand side of graduate students, universities should demand more Black students. One aspect that is key is admission committees. If admission committees are only familiar with a select list of European and American colleges, they can't recruit a diverse entering class. I believe that you can field a talented PhD class from students from countries such as India or Senegal, which is why the question of access is very important. In my time at Northwestern, while it was pretty good, there were a total of four Black students across the different cohorts. From what I know, at least three of us were either African American or first or second-generation immigrants from Africa from undergraduate schools with big name recognition. It is important to admit African American students and underrepresented minorities from lesser-known universities and from historically Black colleges and universities (HBCUs) as well. At this point, the marginal value of admitting both underrepresented minorities in general and African students is so high that efforts should be invested in both directions.
What are your thoughts in terms of ideas for improvement to diversify the field and culture of Economics?
Ndiaye: Economics is what economists do. So, for example, when women enter more into the profession and are interested in areas such as health, labor, and education, these topics become more and more important to economists. Therefore, there is a lack in supply of Black economists which reflects what economists do. If economists take questions of structural racism more seriously and study it, this can boost the supply and vocations for Black people to want to pursue a PhD in Economics. Economics loses a lot of talented Black students who go into fields like sociology, public policy, or psychology because of the narrow problems that economists deem interesting to study currently.
Representation is also a factor and seeing more Black economics professors and Black people in positions of power within the profession can increase the supply of Black economics graduate students as well as more applications from Black students overall. Now that I am in the academy and an assistant professor, I still have the naive feeling, like Sir Arthur Lewis said, that my foot is now on the ladder, and the rest is up to me. We will see.

Back to top