Alumni Event: Career Panel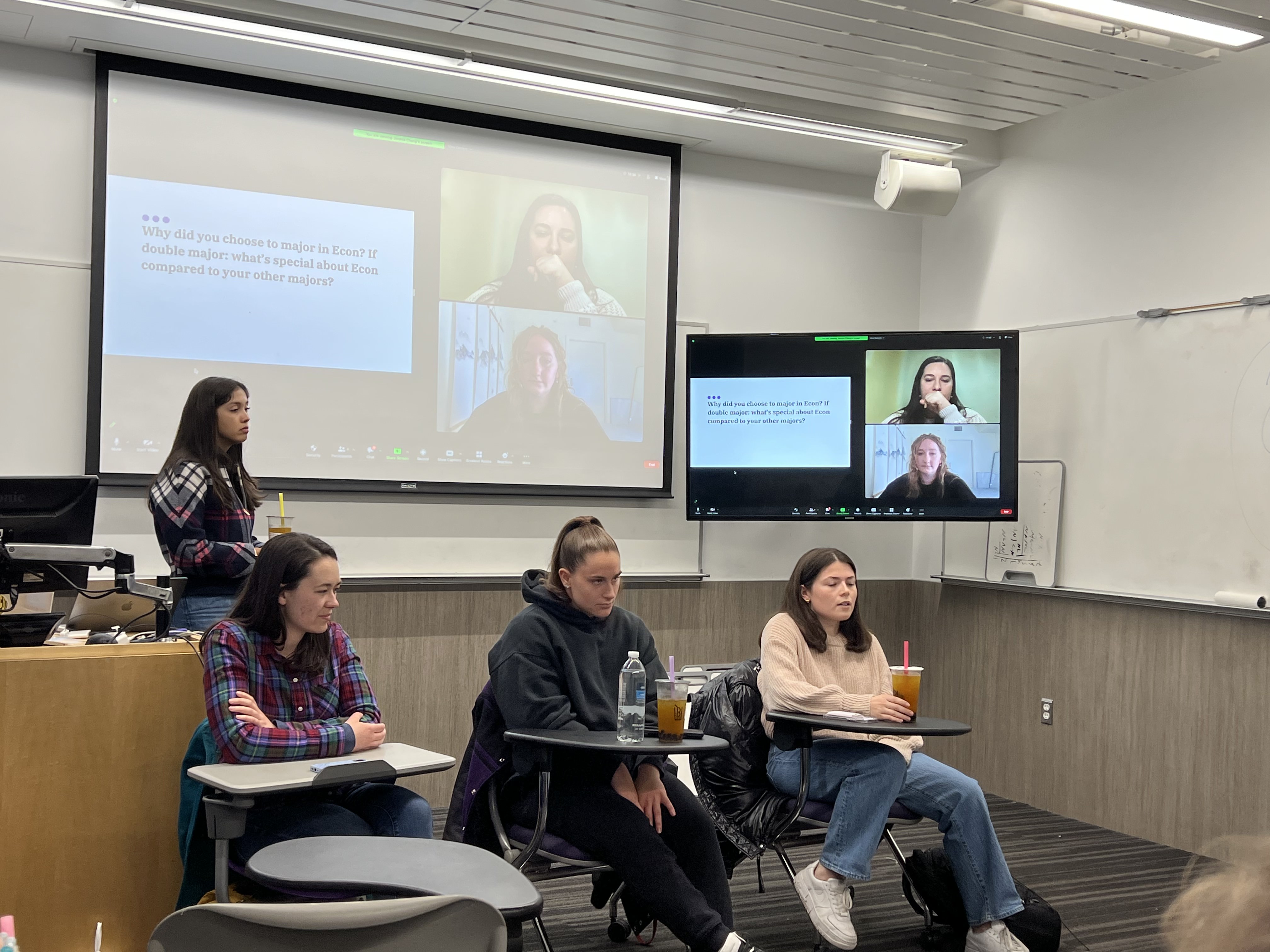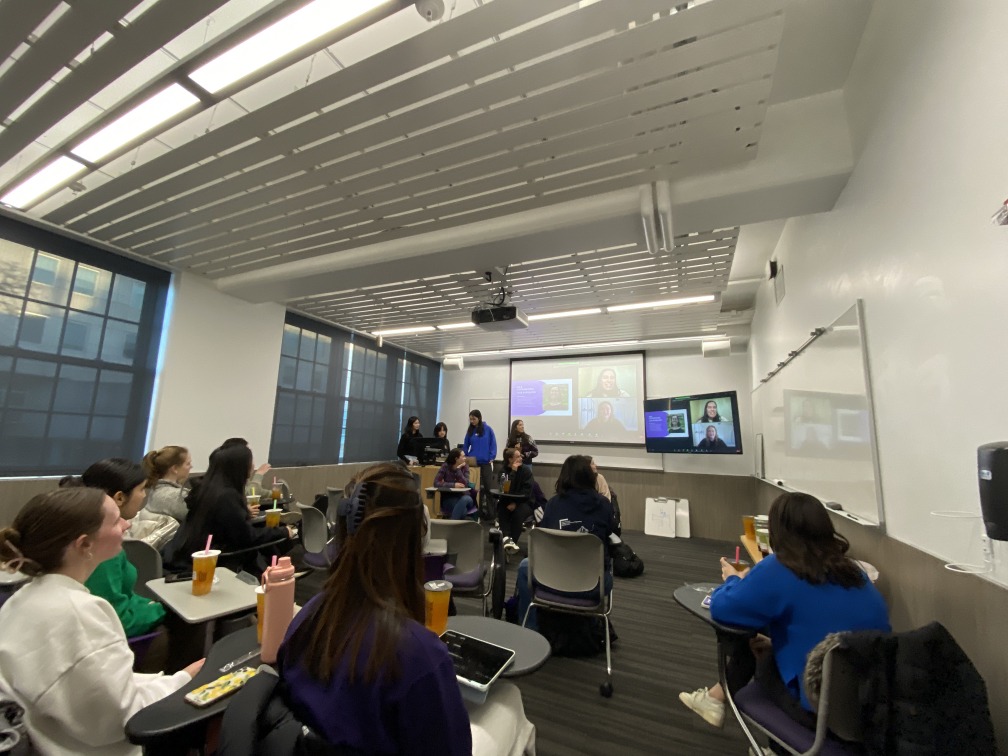 April 25, 2023
Womxn in Economics hosted an alumni panel made up of recent graduates from across industries to show the directions that an Economics degree can take your career. All of the alumni were previously in WIE. Alumni included Eliana Buckner '21 (Labor Markets Research Assistant at the Federal Reserve in Washington D.C.), Katie Daehler '21 (Predoctoral Researcher at the University of Chicago Booth School of Business), and Clara Siebert '22 (Business Unit Finance Rotational Program Analyst at Amazon). They were joined by two current students (and former WIE presidents) Maddy Foutes '23 (Incoming Finance Law Development Program Analyst at Chapman and Cutler LLP) and Rowan Lapi '23 (Incoming MBA at Penn State University).
Eliana Buckner spoke about her role as a research assistant at the Federal Reserve in Washington, D.C. and shared a number of opportunities (including the Institute for Policy Research) for undergraduates who want to get involved in research.
Katie Daehler spoke about her current position as a UChicago pre-doc, as well as her plans to attend grad school, and explained how her undergraduate research experience with a number of professors helped her develop necessary skills.
Maddy Foutes spoke about her plans to work at Chapman and Cutler LLP and attend law school in the future, and she connected with two WiE members who are interning at Chapman and Cutler this summer.
Rowan Lapi spoke about balancing coursework with being a student athlete, her plans to pursue an MBA while still continuing her soccer career, and the importance of developing connections with professors.
Clara Siebert spoke about her position in Amazon's Business Unit Finance Rotational Program and how having a diverse set of coursework as an undergraduate (political science, economics, IMC) better prepared her for the role.
All five panelists gave a number of class recommendations, including Economics of Social Policy, Environmental Economics, and Economics of Medical Care.
Panelist

Bio

Eliana Buckner

 

Eliana Buckner (WCAS 2021) is currently a research assistant in the Labor Markets section at the Federal Reserve in Washington, DC. At NU, she majored in Economics with a Kellogg Certificate in Managerial Analytics. In her free time, she enjoys exploring DC and trying new recipes.

Katherine Daehler

 

Katie graduated from Northwestern in 2021 where she majored in Economics and Sociology with a certificate in Civic Engagement. She currently works as a pre-doc at the University of Chicago's Booth School of Business doing work in development and behavioral economics.

Maddy Foutes

 

Maddy is a senior majoring in economics with a minor in history and a Kellogg Certificate in Financial Economics. On campus, she is involved with Northwestern Women's Club Soccer and ASLA's peer tutoring program for economics. During Fall Quarter 2022, Maddy studied abroad in Prague and spent her weekends traveling around Europe. Previously, Maddy served as the Co-President of Womxn in Economics and is thrilled to be participating in another WiE event! After graduation, Maddy will be working as an Finance Law Development Program Analyst at Chapman and Cutler LLP in Chicago and plans to attend law school in the future.

Rowan Lapi

 

Rowan graduated from Northwestern with a major in Economics and minors in Business Institutions and Entrepreneurship. She was a Co-Founder of Womxn in Economics, as well as the 2022 captain of Northwestern's varsity soccer team, leading the team to their best season to date. She will be attending Penn State University to continue her athletic and academic career and obtain her MBA.

Clara Siebert

 

Hello! My name is Clara Siebert and I just graduated back in the Spring of 2022. I was a Political Science major and an Economics minor with the Integrated Marketing and Communications Certificate. After graduating I moved to Seattle to join Amazon's Business Unit Finance Rotational Program. I am currently in my second rotation in AWS Finance. Outside of work I love photography and anything outdoors and can't wait to explore more of the Pacific Northwest when the weather gets better this summer!