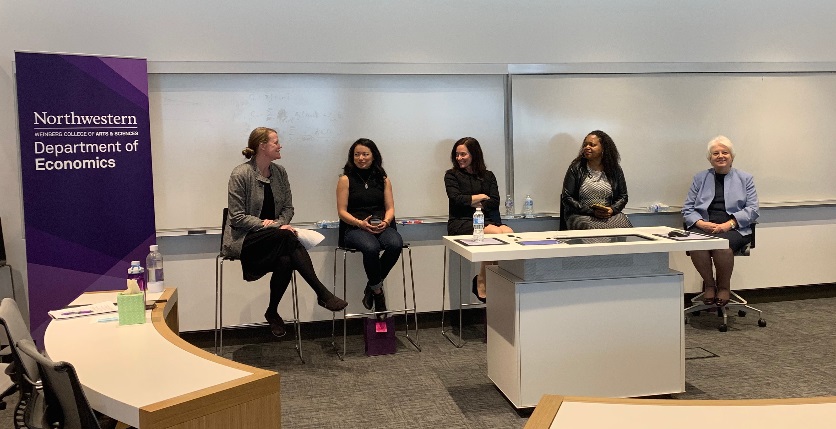 Alumnae Panel a success!
April 22, 2019
Associate Professor Lori Beaman '99 moderated a spirited discussion with panelists Susan Bies PhD '72, Sonya Brown '94, Amelia Chen '10, and Michelle Story-Stewart '92 on Friday, April 19 at the Kellogg Global Hub.
The event, sponsored by the Department of Economics and the Waldron Student-Alumni Connections Program, aimed to challenge undergraduate students to think about the different paths an economics degree can lead to and how to use challenges and failures to build resilience. The panelists shared advice on the importance of:
sticking through something even when it is not easy
learning how to mitigate risk and not be led by fear
networking and having meaningful conversations with others
learning how to deal with different personalities
not taking yourself out of the running (i.e. when applying for a job), especially for women
being aware of unconscious bias
being deliberate, intentional, and accountable
The panelists also gave specific advice to current students including:
not spreading yourself too thin
taking advantage of all Chicago has to offer
the importance of engaging with your professors during office hours
learning how to objectively receive feedback
More information about the event and the panelists may be found here.