Student-led NET a Success
April 19, 2018
The Undergraduate Economic Society (UES) successfully planned and produced the second annual Northwestern Economics Tournament (NET) on April 7, 2018. NET welcomed 16 high school teams from Chicago and the surrounding suburbs to the Kellogg Global Hub to participate in a day filled with quiz bowls and lectures from our distinguished graduate students and faculty members.
The winner of the individual portion was Cameron Chrest from Huntley High School, and the winning team was The Lyons of Wall Street from Lyons Township High School. 
The quiz bowl team members were: 
Alexander Kuptel
Sam Rahman
Kevin Zhu
Max Bresticker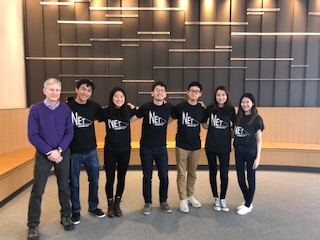 The NU NET Planning team members were:
William Ho
Jacqueline Wu
Peter Nam
Hongrui He
Clarissa Qian
Tyler Huang
(Also pictured, Mark Witte, Director of Undergraduate Studies and Professor of Instruction)
For more information, please visit the NET website.