Letter from the Chair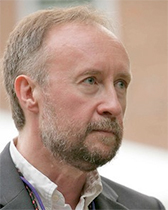 Season's Greetings and best wishes for 2020! The Economics Department enjoyed another successful year and eagerly looks forward to the coming year and a series of new initiatives we have launched. As a result of the extraordinary and tireless work of my predecessor Larry Christiano, who skillfully balanced the department's diverse interests and navigated the University's often Byzantine bureaucracy, I entered my three-year term as chair in September with a solid foundation on which to continue building Northwestern's reputation as one of the world's top economics departments. I look forward to telling many of you personally more about developments in Economics at Northwestern as you return to campus in the coming years. Please drop by my office and introduce yourself when you visit. I can guarantee an appropriately cluttered office and a spectacular view of Lake Michigan, but bear in mind that there's very little I can do at this point about that C+ from Mark Witte in Intro to Macro. Best to just move on.
Though the U.S. News & World Report ranking of top economics departments places us 7th (tied with another department roughly 20 miles to the south), as economists we appreciate even better as metrics of success Northwestern's ability to compete for scarce and highly-coveted resources: people, prizes, & publications. The department, with the strong support of the Weinberg College of Arts & Sciences and the Provost, continues to successfully retain its faculty in the face of frequent and aggressive outside offers from departments ranked above us. We are right now pursuing senior hires ourselves in direct competition with those same schools. The department's prizewinners this year included Guido Lorenzoni and Bruno Strulovici (both elected Fellows of the Econometric Society), Mar Reguant (who received a Presidential Early Career Award for Scientists and Engineers from the National Science Foundation), and Joel Mokyr (who received the Jonathan Hughes Award for Teaching Excellence from the Economic History Association and the Allan Sharlin Memorial Book Award from the Social Science History Association for A Culture of Growth: The Origins of the Modern Economy). To see examples of our continued strength in publications, one need look no farther than the October 2019 issue of the Journal of Political Economy which featured several articles by current or recent Northwestern faculty or PhD students, or the publication of books in 2019 by Chuck Manski (Patient Care Under Uncertainty) and Matthias Doepke (Love, Money, and Parenting: How Economics Explains the Way We Raise Our Kids, with Fabrizio Zilibotti).
In the coming year, the department, together with the rest of the university, continues to celebrate 150 Years of Women at Northwestern, commemorating the entry of the first class of female students 150 years ago. The department's participation will include events showcasing the achievements of women who have graduated from our undergraduate and graduate programs, and in the process raise the visibility of economics as a major among female students. We are also commemorating this milestone by highlighting alumnae, students and faculty on our website. If you're interested in participating, please share your story or nominate someone. The department will also be hosting a range of activities to connect our alums and our faculty, giving our former students an unparalleled opportunity to reconnect with the department and see the people and the research that lie behind the department's current reputation. We anticipate another successful year retaining our sought-after faculty and luring top colleagues from elsewhere. Together with the Department of Computer Science in the McCormick School of Engineering, we are building a new cooperative program for undergraduates that leverages "big data," econometrics, and economic theory to prepare students for the jobs of the future.
Finally, faculty member and university president Morty Schapiro has undertaken a campaign to endow the department's work and enable us to compete even more successfully with peer institutions. So when President Schapiro shows up in your caller id or on your doorstep, or you find his hand on your wallet while your attention is diverted by the canapés at an alumni event somewhere in the world, you know what to do -- forget about rational self-interest, send homo economicus out to pick up your dry cleaning, and give generously.
Joseph Ferrie
Professor; Department Chair
Back to top