Letter from the Chair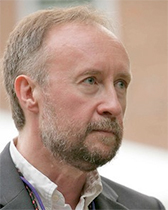 Dear Friends of NU Economics,

I am happy to report that our Economics community has finally begun to re-emerge from the pandemic-induced disruption to our lives as the COVID-19 threat recedes. Our staff, our faculty, and our students worked very hard over the last 16 months to keep us functioning, albeit virtually, but we are all looking forward to returning to the Kellogg Global Hub -- not just to get back to our offices and classrooms but also to enjoy the casual interactions in the hallways, at the mailboxes, and around the espresso machine. I honestly have no idea how our Italian colleagues have coped without the espresso machine.

Endless hours on Zoom in the isolation of home offices and spare bedrooms, pretending to be wearing something other than sweatpants or shorts just below the camera's view, fussing over lighting, backgrounds, and pets we wish were just a bit more camera-shy -- all that is coming to an end as we transition back to a 100% in-person experience starting in Fall Quarter.

We all have things to be thankful for as the rhythms of regular life return. We are thankful we have survived, even as we mourn the loss of family and friends who were less fortunate. We are thankful that ours is a life that simply could move online and continue in a different format, even as others found their places of work idled and their connections to their communities severed. Finally, we are thankful for all the work and patience and cooperation displayed by everyone, but especially our amazing staff, in keeping things together.

We now look forward to a new academic year with a number of developments on the horizon that augur well for the Department's future. In September, four new faculty members will join us. Sidonia McKenzie is a new Assistant Professor of Instruction. Silvia Vannutelli is a new Assistant Professor with interests in Applied Microeconomics. Walker Hanlon is a new Associate Professor in Economic History and last but not least, Federico Bugni is a new Professor in Econometrics. They join two other new faculty who arrived during the pandemic and are only now seeing KGH in person for the first time -- Annie Liang and Ben Golub.

In late August, we will welcome a new class of Ph.D. students, even as the graduating class departs for new positions after very successfully navigating what we had feared would be a treacherous job market. The entering class has a higher fraction of females (33%) than any class in the 30 years I have been at NU.

Our search for several senior faculty members in Applied Microeconomics will also carry over into the new year. This is an area of very active research in Economics (embracing labor, public finance, health, education, and urban) where we are committed as a department to being stronger. With the help of Dean Adrian Randolph and Provost Kathleen Hagerty, and the support of our department colleague and university president Morty Schapiro, we have the resources to pursue the world's best senior scholars in this vitally important field.

As a new year begins, we will also welcome -- for the first time since February 2020 -- a large number of visitors to the Department. Juan Carlos Suárez Serrato (Duke University), an applied microeconomist, will visit for all of Fall Quarter, while George-Marios Angeletos (MIT), a macroeconomist, will visit in the Spring Quarter. Claudia Goldin (Harvard), an economic historian and labor economist and the 2020 recipient of the Nemmers Prize, will spend time in residence throughout the year. Another half dozen scholars will join us for shorter terms throughout the year, in addition to the usual seminar guests as these, too, return to their traditional in-person format.

Though we are in an enviable position compared to many institutions, we now compete for the best students and faculty with peer Top-10 economics departments that often have substantial, independent sources of support. Giving by our graduates and benefactors helps us even that playing field and keep NU Economics at the level we have all worked so hard to attain.

Until next time, please stay safe as the world wakes up and stay in touch as we get back to normal and continue to improve the little piece of that world that has been made better by having had you as a part of it.


Best,
Joseph Ferrie




Professor; Fitzgerald Professor & Department Chair