2019 Graduates
Congratulations 2019 graduates!
We are proud of the more than 300 Economics students who graduated this year!
Commencement speaker Lonnie Bunch shared one of his most important lessons learned with the Class of 2019: "think beyond yourself...As college-educated adults, you should remember to fight the good fight. There is a greater good that transcends individual gain or personal achievement."
View photos from the Convocation Ceremony!
2019 award winners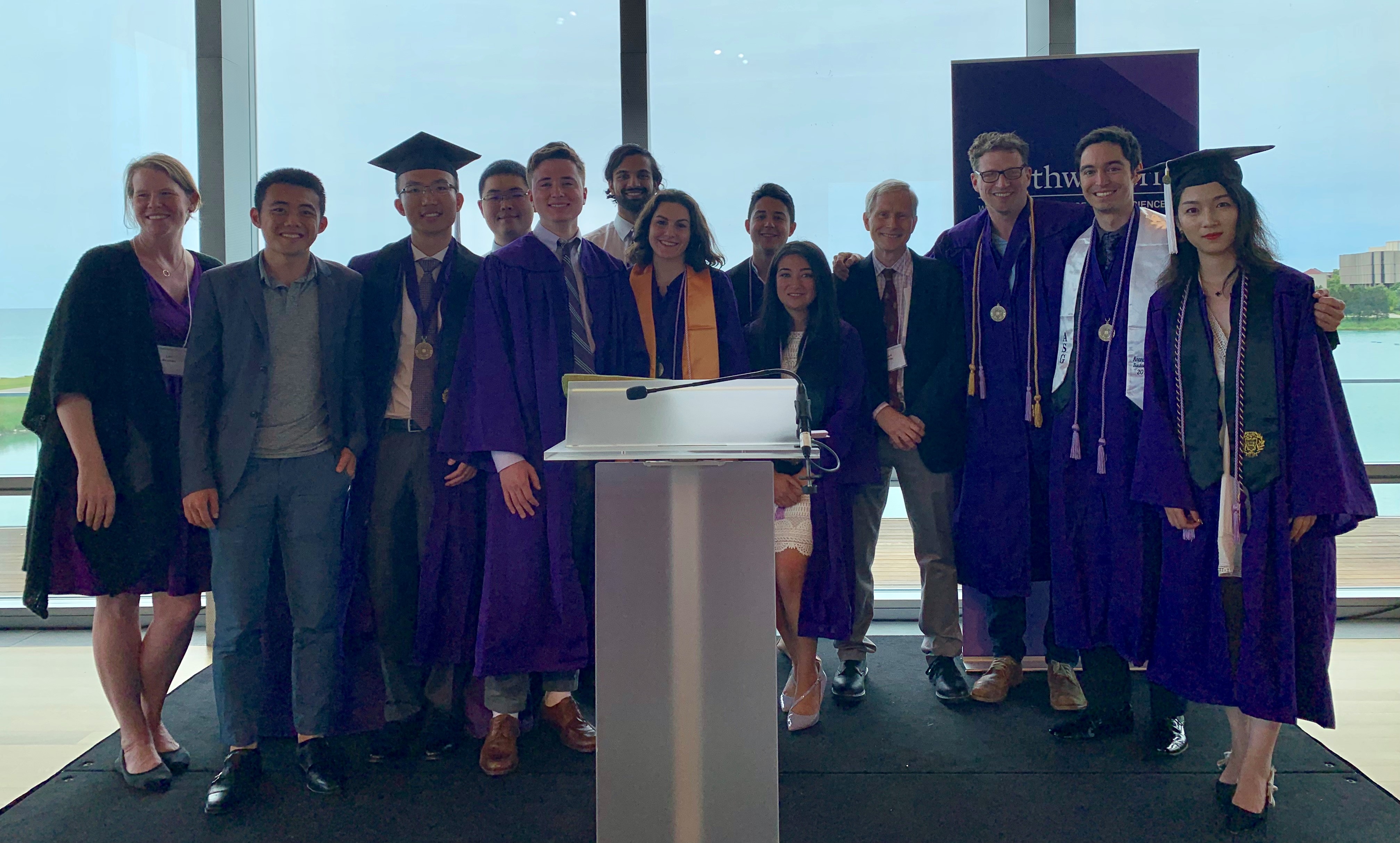 Pictured: 2019 Award Winners with Lori Beaman, Associate Professor; Director of Senior Theses and Mark Witte, Professor of Instruction; Director of Undergraduate Studies
Frederick S. Deibler Awards for Excellence in Economics
Megan Angell
Yunhao (Leslie) Liu
Theodore Steinmeyer
Xudong (George) Tan
Robert Eisner Award for Undergraduate Research
Frederick S. Deibler Awards for Distinguished Honors Thesis
Megan Angell
Rachel Hersh
Hassan Sayed 
Departmental Honors

| | | |
| --- | --- | --- |
| Megan Angell: Heterogeneous Effects of Anti-Poverty Programs in Ghana | Rachel Hersh: The Impact of Political Party Affiliation on Sustainable Investing Strategies in U.S. Public Pension Funds | Anand Lal-Tabak: Identifying Bias in Luminosity-Based Estimation: A Local Level Assessment of Night Light Data as a Proxy for Economic Activity |
| Xumeng (Sherry) Li: Are Travelers Getting Worse-Off After Airline Mergers - A Study on the Impacts of U.S. Airline Mergers on Consumer Welfare in Domestic City-Pair Markets | Brian Lietke: Booming Prison Construction: An Economic Analysis of America's Response to Increased Import Competition from China | Yunhao (Leslie) Li: Touring the Island: The Effects of High-Speed Rail on Tourism Distribution in Hainan Province |
| Javier Madrazo Labardini: Playing Favorites? Political Patronage in the Allocation of Local Public Goods | Hassan Sayed: Colonial Distortions: A Model of Extraction and Social Fabric | Shayna Servillas: The African Aid Market: How a Rise in Private Chinese Investment Impacts Aid Incentives for Governance |
| Matthew Song: Public Policy Analysis: Poverty and the Markov Model |   |   |
Awards
The Frederick S. Deibler Award for Distinguished Honors Thesis is awarded each year to graduating seniors who have written exemplary senior theses. The Frederick S. Deibler Award for Excellence in Economics is awarded to graduating seniors who achieve the best performances in economic coursework. Frederick Deibler was a faculty member of the Economics Department from 1904-1942. A native of Indiana, Professor Deibler received his BA from Harvard in 1904 and his PhD from University of Wisconsin in 1909. His main research interests were labor markets and organizations, and his book "Principles of Economics" was first published in 1929. The Deibler Awards were established upon Professor Deibler's retirement from Northwestern in 1942.
The Robert Eisner Award for Undergraduate Research is awarded to the graduating senior who demonstrates superb talent in conducting Public Policy undergraduate research in economics. Robert Eisner was a member of the Northwestern faculty from 1952-1994. Professor Eisner was recognized throughout the United States for his expertise and knowledge of macroeconomics and the economics of business cycles. He served as President of the American Economic Association in 1988 and was a regular contributor to the Wall Street Journal, The New York Times, Chicago Tribune and The Los Angeles Times, primarily covering national economic policy. Read a full history of his teaching and professional career.