Dale Mortensen
1939 - 2014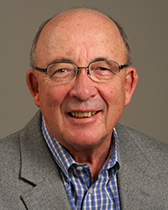 Longtime faculty member Dale Mortensen passed away on January 9, 2014. He was the Board of Trustees Professor of Economics at Northwestern University's Judd A. and Marjorie Weinberg College of Arts and Sciences. He was the recipient of the 2010 Nobel Prize in Economics. He won the prize with Peter Diamond, Massachusetts Institute of Technology, and Christopher Pissarides, London School of Economics and Political Science in the United Kingdom. The prize recognized "their analysis of markets with search frictions."
Professor Mortensen's family donated his Nobel Prize medal to Northwestern and it is proudly displayed in the Department of Economics.  The medal was unveiled to family, friends and colleagues at a special event on February 1, 2019.  View event photos
Links
Press Coverage of Nobel Prize
Conference Honoring Professor Mortensen
Held at Northwestern University on April 15-16, 2011.
The conference was co-sponsored by the Federal Reserve Bank of Chicago.
Saturday, April 16, 2011

Time

Lecture

9:00-10:00

Randall Wright (University of Wisconsin): Buyers, Sellers and Middlemen: Variations on Search-Theoretic Theme

10:15-11:30

Panel Discussion: Macroeconomic Policy and Labor Markets: Lessons from Dale Mortensen's Research.
Moderated by Martin Eichenbaum (Northwestern University)

David Andolfatto (Federal Reserve Bank of St. Louis)
Gadi Barlevy (Federal Reserve Bank of Chicago)
Lawrence Christiano (Northwestern University)
Robert Hall (Stanford University)
Gianluca Violante (New York University)

11:30-12:30

Guido Menzio (University of Pennsylvania): Social Insurance for Frictional Wage Inequality
Media report on the conference
Obituaries
University Memorial Service
Held on Friday, January 31, 2014 at Alice Millar Chapel on the Evanston Campus
Memorial Service Program
Daily Northwestern memorial service coverage
University memorial service coverage
Speakers:
Timothy S. Stevens, Northwestern University chaplain
Morton Schapiro, Northwestern University President, and Professor of Economics
Robert Coen, Professor Emeritus of Economics, Northwestern University
Rasmus Lentz, Associate Professor of Economics, University of Wisconsin–Madison
Kenneth Burdett, James Joo-Jin Kim Professor of Economics, University of Pennsylvania
Guido Menzio, Associate Professor of Economics, University of Pennsylvania
Karl Mortensen
Robert E. Lucas, John Dewey Distinguished Service Professor
in Economics and the College, University of Chicago
Beverly P. Mortensen
B. J. Christensen, Professor of Economics, Aarhus University, Denmark