Letter from the Chair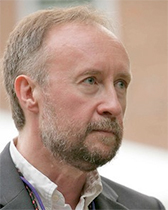 The year since I last wrote to you as members of the Northwestern Economics community has indeed been an eventful one. Civil unrest, pandemic, and political turmoil have all been part of our daily lives. As I'm writing this, rioters have stormed the U.S. Capitol and are battling police in the building's rotunda. With all this going on around us, it might seem trivial to some for me to report on developments in our Department. But I disagree with that perspective -- I believe that our work has, if anything, taken on even greater urgency in the current context.
We have an important contribution to make to the coming debate over the issues that underlie the events of today. Racial injustice and the inequality that exacerbates it, the link between the economy and the health of the nation, and understanding the behavior of people and the institutions in which they place their trust -- all of these are or should be at the very heart of our work as economists. We can do this work better, and the last year has taught us that we must. A fundamental challenge we must address, however, is that evidence and facts are disdained in the minds of too many. We need to do much more than merely packaging our work so it is more readily accessible. Instead, we need to understand how so many exhibit behavior that runs so counter to the rational models on which we rely. 
In our own department, the last year has been difficult, as we moved to remote learning and social distancing. The lifeblood of our work, and the part of it many of us find most rewarding, is the daily casual and often unplanned interactions in classrooms and offices and seminars. A day of Zoom calls is a poor substitute for a walk down the hallway of the Kellogg Global Hub. But with the invaluable help of our amazing staff, the willingness to adapt of our faculty, and the indulgence of our students, we have continued to function and even in some ways improve.
An inevitable part of the life of the department is the departure and arrival of new faculty. We said goodbye to Matt Notowidigdo (who has returned to the Booth School) and Daley Kutzman (who has moved to Facebook), who will both be missed. And we have welcomed three new faculty: Annie Liang has joined us from the University of Pennsylvania, Ben Golub has joined us from Harvard, and Walker Hanlon has joined us from NYU Stern. Annie and Ben are part of a joint initiative with the Computer Science department and will teach in both departments, and will work on establishing an undergraduate curriculum that prepares students for careers in the Big Data world. Walker will join the Economic History group and become the new Associate Director of the Center for Economic History. We are engaged in a search for both senior and junior colleagues in Applied Microeconomics, with the indulgence of the Provost and Dean at a time of otherwise tight budgets. And we look forward to the return of normal hiring through which we can continue to move up in the national rankings.
We have also made substantial progress in connecting our faculty and students to efforts to diversify the field of economics. More than two dozen faculty members have volunteered to participate as advisors and mentors in the American Economic Association's Summer Program which prepares students from groups currently under-represented in our field for graduate work. Together with Amazon Web Services, we sponsored a program of outreach to 5 of the nation's historically black colleges and universities. And we are undertaking a program to introduce more high school students to economics by helping the Chicago Public School system expand its Advanced Placement courses to schools with large minority populations. Within the department, we have also welcomed the work of a new Committee on Diversity (including faculty, staff, and students) charged with enhancing the inclusiveness of our community.
I look forward to reporting on further developments in all of these areas over the coming year. But I look forward even more to a return to something more like normal life, to a time when you can visit Northwestern and see for yourselves the progress we are making, and when we can gather at ASSA and share a drink and talk about the role of economics in the world around us.
Back to top