Shreya Sriram ECON '22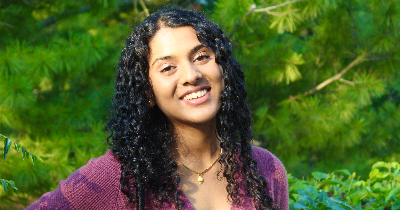 What does your current living situation look like and what does it make you feel?
Shreya: I am currently an RA living in a single on campus right now. My dorm has a ~40% occupancy rate so things are pretty quiet here. My dorm is open primarily for underclassmen with extenuating circumstances that require them to return to campus. As a third-year here, I can't say I have made too many friends within my building. It's been sort of lonely but luckily I have friends off campus whom I can catch up with over a cup of coffee or dinner (all outdoors of course) but ultimately, I do return to my isolated room.
What do you miss most about in-person classes or being on campus?
Shreya: I miss the small interactions and bump-in's you have with friends, a classmate, or just any familiar face. Northwestern has one of the most beautiful college campuses in the nation and it is especially gorgeous with the changing Fall colors. I wish us students, especially the first-years, were able to experience the crisp Evanston air during walks to and from classes, on the way to meet some hallmates at a dining hall, or on a weekend adventure with your new group. I remember the precious sentiment derived from a small but meaningful coincidental-run-in-turned-1-hour-catch-up-session with an old friend you haven't seen recently. Unknowingly, it was in these seemingly inconsequential interactions through which the soul of a college experience is borne.
How has remote learning been for you? Have you implemented creative studying habits?
Shreya: Remote learning has been a double-edged sword so far. On one hand, the issues of accounting for travel time, fixing up appearances, and accommodations/venue logistics have all been eliminated, which resulted in more time to prepare for the actual meeting with even a few minutes to spare. On the other hand, it seems everyone came to the same realization quickly, and just like that, those spare minutes were all scheduled up into more meetings. Essentially, it has become normal to book up a day with 5 or 6 straight hours of Zoom calls because the mentality of "what else are you doing?" has cemented itself in some minds. It has been hard to maintain the mental and emotional stamina to brave long stretches of time parked in front of my laptop staring into a screen but it has helped me make the most of the time I *do* have off. The earlier incidents of blue light-induced migraines have also motivated me to take care of my eyes in relation to electronics for once. 
Meditating, practicing mindfulness, and ensuring I have a healthy diet and amount of sleep have all been really helpful. Having my main source of physical activity (walking around campus to get to my meetings/classes) go obsolete, I have been forced to be more conscious and meaningful about exercise. I've also found that some meetings do not need to be a Zoom call but rather could be summarized in a message. Most importantly, staying focused and positive is definitely easier when you take a few minutes to get to know the other folks on Zoom. Those friendly relationships and connections that come so easily in person might not be as natural through a device but are just as impactful and uplifting.
Is there anything else you would like to share? Any silver linings?
Shreya: I think this transition to Zoom has been in the making for a while and its arrival has just been expedited by the onset of COVID-19. As a pre-med student, I've been following the rise of Telemedicine and, seeing how successful that was going, it was only a matter of time until the corporate world adopted this model as well. Virtual meetings with offshore teams or with clients across the world have now been proven to work and achieve the ultimate objective. The now decreased financial and human costs are now invaluable to companies. Working from home allows most to spend more time with families and it feels as though the little break the world took while we all readjusted to this "new normal" seemed to come at the time it was most needed.